HANK WOOD AND THE HAMMERHEADS
ROCK 'N' ROLL SALVATION DISCOGRAPHY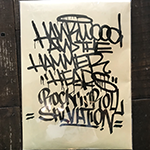 All the sound sources of HANK WOOD AND THE HAMMERHEADS approaching Japan performance (2018 "S/T", 2014 "Stay Home!!", "Go Home!", 2011 "EP", "NEW YORK RULES Cassette", 2013 2012 "Ground Zero NYC", 2012 "The Jelly Boys Sessions vol. 1 Tour Cassette", 2014 "Fatigue" (The Blitz cover), 2017 "Live on WFMU for Hello Children with Faye (Free Music Archive radio release) recording)" ), a zine containing artwork, member photos, lyrics, and an interview (reprinted from EL zine Vol.31), and a beige A4 poster printed with the same design as the booklet jacket. Japanese edition limited edition in a square 2 envelope.

=HANK WOOD AND THE HAMMERHEADS Rock 'n' Roll Salvation Japan Tour 2018=
7/14 (Sat) @ Tokyo Antiknock
7/15 (Sun) @ ...
[Read More]